I've been covering Tesla a lot at Seeking Alpha. But I hope to start publishing more on my blog along with SeekingAlpha if (big if) I get the time. This might feel a bit out of context, especially since all my blogs are now merged, so I recommend reading some of my Seeking Alpha articles first if you are not familiar with Tesla or my take on the company. You can start here with this article I wrote two and a half years ago.
If you are not familiar with the Model X, it is Tesla's new large 7 passenger crossover with Falcon Wing doors, possibly the safest and fastest SUV on the planet.
Model X Sales Ramp
If you read the news and analysis about Tesla Motors (TSLA), there is widespread doom and gloom, especially about the Model X sales ramp. The Model X is no doubt a complicated vehicle and Tesla has had a lot of trouble producing the vehicle. It brought seat production in-house because suppliers couldn't make a seat to Tesla specifications. The manufacturer for the mechanism for the Falcon Wing door couldn't deliver and is currently being sued. In spite of all this Tesla managed over 200 deliveries (actual sales, they produced more) of the car last year and is currently expecting the order backlog to clear by summer with new orders expected to be delivered mid-late 2016.
However, the Model X backlog is estimated to be over 20,000 orders. If Tesla manages to clear the backlog by the end of the year and squeeze in a few more orders, it will be the fastest ramped alternative vehicle in history, tying or even beating the current record holder, which is none other than Tesla's own Model S!
So while people look at the daily news and speculation, Tesla, with all its problems, is expected to pull off a feat that even other established 100 year old manufacturers are unable to accomplish.
Here is what the sales ramps of the Toyota (TM) Prius, Chevy (GM) Volt, BMW (BAMXF) i3 and Nissan (NSANY) Leaf look like compared to the sales of the Tesla Model S and my expectations of 25,000 Model X to be delivered in 2016.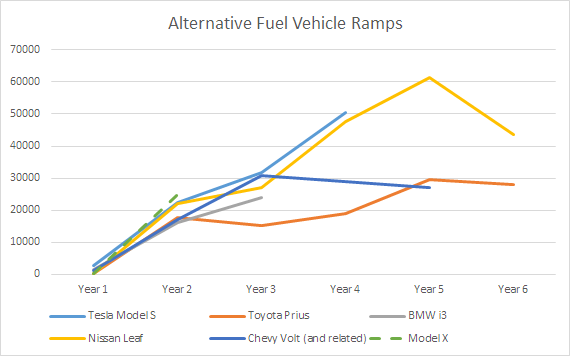 This is in spite of the fact that the Model S and Model X are from a brand new auto manufacturer with no experience making cars. And in spite of the fact that the Model S/X are vehicles that compete in segments with smaller volumes priced at nearly double or more than these competing vehicles. While alternative fuels are not a focus at other companies, with decades of experience, one would think that they can outsell a fledgling automaker with no experience? The comparisons do not end there. With their first sedan and SUV, Tesla has managed to create the longest range EVs, the fast accelerating cars in their segments among other firsts like OTA updates. And Tesla even managed to get a 5* safety rating in all categories for their car, a feat that other manufacturers are not yet able to accomplish across their entire fleets.
2016 Production and Sales
Anyway, so what does this current doom and gloom mean this year? I expect Model S sales to remain stable at 50,000 and Model X sales to be around 25,000 bringing the total to about 75,000 for the year. This represents approximately 50% unit growth. I also expect Model S average selling price (ASP) to remain stable and Model X ASP to be well over $100,000 as most of the units delivered this year are expected to be loaded. So I expect revenue growth to be over 50%.
Tesla's own estimate is production (not sales) of an average of 1600-1800 cars/week, but I currently do not expect them to reach that kind of number until the second half of the year. I'm assuming that as volume rises, sales numbers will closely track production numbers. Even if not, Tesla generaly empties inventory in some quarters (like Q4 last year) and sales catch up with production. For the first half, I expect sales numbers similar to Q4 production at around 15000 a quarter, giving us about 30,000. After that I expect Model X production issues to be sorted out and volume production to begin and I expect another 45,000 sales during the second half.
Catalysts for the Stock
CPO: Q4 2015 was the first time Tesla sold more than a handful of Certified Pre-Owned (CPO) cars and since then Tesla has had a steady stream of available cars to sell. During earnings, I expect some more color on the profitability of this program.
Energy Storage: As Tesla ramps up production of their energy storage products – the Powerwall for residential storage and the Powerpack for commercial/utility scale storage, this business is expected to add to both the top and bottom line. I expect the guidance for this business to be robust as Tesla's Gigafactory in Nevada starts pumping these out in volume.
Model 3: There is a lot of scoffing at the Model 3 and not enough scoffing at Porsche's (POAHF) 2020 competitor to the 2012 Model S or the Batmobile from Faraday Future, a Chinese funded startup in Nevada. However, the expectation is that pre-orders for the Model 3, expected to begin late next month will be off the charts. I'm one of those who will pre-order.
Model X Reviews: Model X reviews have not yet started showing up but the expectation is they will be glowing like the Model X. The car stole even Bentley's thunder, with faster acceleration. This year the Model X is likely to get rave reviews and win awards galore as a one of a kind green SUV-supercar.
As I write this the stock is at 52 week lows and the stars are expected to align this year from several expected catalysts for Tesla. I'm adding more at every opportunity because I expect Model X issues to be resolved soon and all the other catalysts to help propel the stock upward long term. In the early days of the Model S, these same worries persisted as for the Model X, that Tesla wouldn't be able to make the car, wouldn't be able to sell the car. And now the Model S is the top selling luxury car in its segment. More of the same is in the cards for the Model X.
Disclosure: We are long TSLA.