I've said that the Tesla Model 3 will be an existential crisis for the auto industry as soon as reservations opened. My charts from a few months later, showed exactly that happening with the BMW 3 series. Now that the Model 3 deliveries have started and all the details have emerged, here is how the Model 3 stacks up against the competition (source: Bloomberg)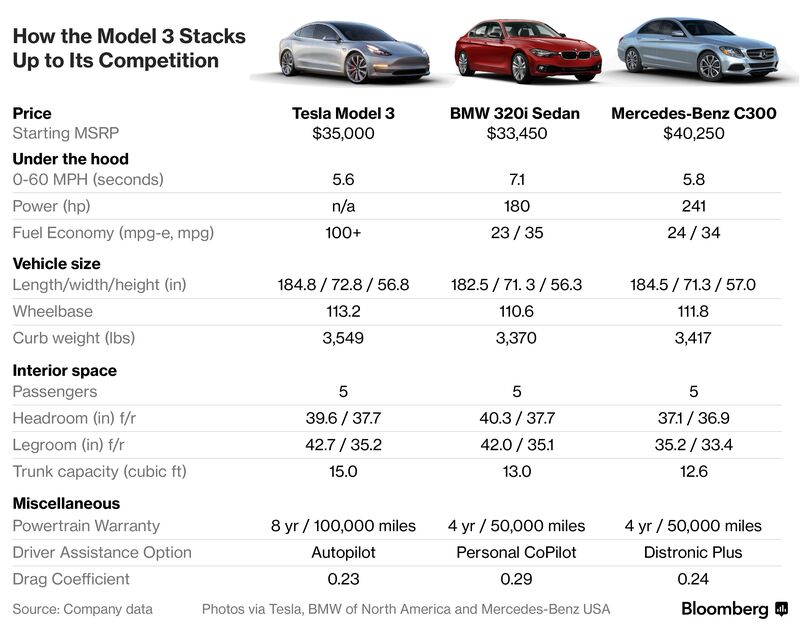 There are a few items that are not immediately obvious from the chart above.
Features
The 320i is a crap car that BMW sells to make that price point. If you want a decent car, for example if you wanted the "Driver Assistance Plus" package, you must get a 330i, which starts at 38,000. Even the "safety options" are missing from the 320i.
Autopilot
Tesla Autopilot is miles ahead of the others just from its ability to be constantly updated from fleet learning.
EV Weight Penalty
The base Model 3 is only 5% heavier than the BMW 320i and 4% heaver than the Mercedes C300, which means it has very little EV weight penalty.
Fuel Economy
The list above only shows 100+. They really mean "100++". My expectations are on par with the Hyundai Ioniq which has 150 city / 122 highway.
Reviews
The Bloomberg article from the chart above came was titled "Driving Tesla's Model 3 Changes Everything". Here is MotorTrend. Here are Forbes, The Verge, Wired. I could go on and on but every review is glowing. The only complaint so far is that a loaded Model 3 costs close to 60,000. I'm not sure these reviewers have ever tried to configure a loaded car from the competition.
Since my last update, BMW 3 series sales have not improved at all and TTM sales are at an all time low from their peak in 2015:
Here is how fast Tesla is improving. Then go compare a 2017 car of any make to a 2012 car and try to find the improvements. Why would any buyer of a car in the price/size range in which a Tesla is available buy any other car? Tesla even offers all new software features to all existing owners over the air.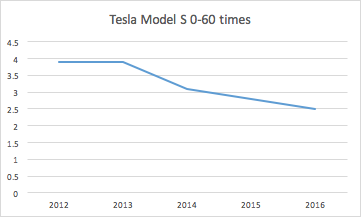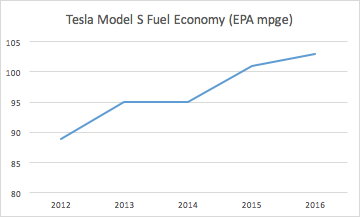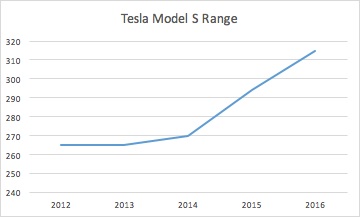 Source: my article here
The actual availability of the Model 3 will make things even worse for other compact luxury sedans. Tesla gave me a way earlier than expected estimated time frame for my Model 3 of Dec – Feb. I'm not an employee or Tesla owner and I'm on the east coast. I didn't expect the car until at least the middle of next year. Here's to hoping that Tesla can actually get me the car by Feb 2018.
My previous article at Seeking Alpha showed what would happen if the Model 3 took as much market share as the Model S: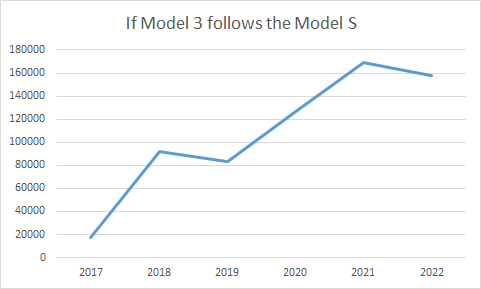 With so much attention and the reservation numbers, I expect the Model 3 to have more sales in 2018 than that chart shows in 2021 as long as Tesla can make them. Times are going to get interesting soon for the luxury auto industry that is just standing still with no plans for any compelling cars in volume until at least 2020, probably 2025. I'm sure every major auto manufacturer is bracing for the impact of the Model Y in a couple of years as they are currently trying to make up for lost sedan sales with SUVs. But what can they do with no current plans of a fast charting network or a compelling electric car? Anyone who has used any electric car, even the Leaf (we've been using a Leaf since 2013) knows that a gas car can never compare in driving to an electric car, no matter how good the car is. Plus, home fueling, especially with renewable energy, rocks.
Disclosure: Long TSLA.